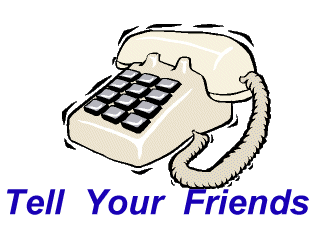 Click here
Search the Shopping Plaza
TESTIMONIALS AND KUDOS




Nily,
I have received my order from you. Thank you for all of your help assuring me that it was going to get here. You know how brides to be are--nervous --worrying. Everything looks great. I will definitely recommend you guys to anyone I know looking for wedding stuff.
Thank you so much!
Erryn Schwach


Congratulations Webmaster of a-weddingday.com
Independent market research has shown your site to be one of the most popular websites on the Internet.
We at TrafficRanking.com found that a-weddingday.com is now ranked as one of the most visited sites on the Internet.
Our market research software has tracked over 25,000 Internet surfers since its creation, many of whom have visited your site on a regular basis.
Feel free to use this information in your own promotional, marketing or advertising campaigns.
Patrick Devereaux

Good morning
I received my sixpence package and it's just perfect.
I will recommend you to others! And, thank you for such a personal touch over the cold abyss of cyberspace!
Regards,
Penny

"Oh My GOD!! The necklace is Gorgeous!"
was the initial response by my fiance Jennifer and myself! ... I must say it looks perfect!
By the way, are the beads hematite? Again, high praises to you for your a-weddingday site and to Deb for her creations!
Kevin D, MS

Thanks a bunch! I have passed along your email to my friend who is getting married... I was really just the "scout" for butterfly accessories. I appreciate your prompt response and outstanding customer service!!
Alison M, TX

The order arrived safely, and it's great -- just what I was expecting it to be.
Nancy Frye

Thanks so much for being so helpful.
The merchandise arrived safely on Friday. I will most definetly tell others of your web site. It has so much to offer young brides. Thank-you to for the personal attention and the extra gifts you threw in.
Jamie will be very pleased.
Sincerely Carolyn Sibert, OR

The cake set arrived yesterday and both the bride and group loved it! Thank you!
Christie A Swarts

Hi Nily! The candle arrived yesterday and it is perfect!
We are expecting 70-80 people at the "Court of Honor" reception on Sunday. I hope every one of them asks where we got that very special candle.
Of course you may quote our heartfelt endorsement, not only for your product, but also for your wonderful personal touch. Thank you very much again. Look forward to future experiences with you.
Joan and Rick Reed, Texas

Thank you so much for your quick response and help!
Diane in Toronto

I received my pen. I love it. Thanks for all your work and follow through.
That says everything about a company!
Jessica Bailey, CA

Dear Nily and A-wedding Day staff,
Thank you so much for my order. it is beautiful. I absolutely love it and thanks for the rush delivery and personal attention. I loved it and the necklace... thank you :)
Reem Chughtai

Hello,
I received the flower girl basket yesterday. It is beautiful. Thank you.
Tanya

"The reason I opened a shop at A-Wedding Day was because I loved the unique idea of joining two entirely different industries together. I think it's a thrill to be able to be a part of this business undertaking from the beginning and to see it grow and take shape.
By joining A-Wedding Day I have been able to tap into another whole customer base that I never had thought of before...
With all the advertising and the digest groups that A-Wedding Day is involved in, it has helped promote my business name and product to new people.
So my relationship with A-Wedding Day has expanded my business into a new industry for me."
Diane Morgan

"I met Nily through the Internet. I think that A-Wedding Day is a novel idea for investors or unique crafters like myself. Showcasing on her website has brought more clicks to my site, and more interest in my product.
"I feel that A-Wedding Day has a great potential and future, because of the innovative minds of the creators. This website picks up where other wedding websites have not ventured.
"Nily's business background is a good combination with the web designer for this great endeavor.
"I am grateful and proud to be the Customs and Traditions Expert and help bridal couples. Thank you for the opportunity."
Kitty Ariza
inventor of the original Nuptial Knot


"I joined A-Wedding Day because I hope to promote my personalized wedding book...Since I joined, I have had a lot more hits on the wedding book. It probably gets more hits than any of my other personalized books.
"I also must say that the public relations department on A-Wedding Day is excellent. Any time I have a question, regardless of what it is, Nily always gives me a quick response and her information always helps me."
Martha Ghearing


"I am impressed by how well A-Wedding Day is promoted on and of the Web. Being on the A-Wedding Day site helps me to get my business growing with more exposure to the public.
"I am very happy and excited to be part of this wonderful group at A-Wedding Day!!!"
Renate Zeppatella





The A-wedding Day, Official SiteRing

This site owned by
A-Wedding Day
SiteRing by Bravenet.com
Our Privacy policy
You can rest assured that any information you submit to A-wedding Day is secure
and is used solely for the purposes of keeping track of our members.
We do not sell, rent, or otherwise distribute your data to any third party - company or individual.

It's all in
A-Wedding Day.